Our Hostel
Roof Talk Theme Hostel is the first theme hostel with nautical feature in Johor, Malaysia catering to all ages and interests. Our hostel features 4 types of cabin design: Navigator Room, Sailor Room, Fisherman Room and Captain Room.

Roof Talk Theme Hostel offers Free Coffee / Tea, Free WiFi, Hair Dryer, Water dispenser, Comfy Private rooms and Dorm with personal locker, 8 inch Spring Mattresses with comforters, Air-Conditioning in every room, Personal Socket, Super Clean Facilities, Rain-Head Showers, Cotton Linen, Towels, Quality Toiletries (shampoo, shower gel), interactive Common Areas and the Friendliest Staff.

Our price inclusive of linen, the use of lockers and towers. Best value guarantee hostel on Town.

Our warm and friendly staff will always have plenty of time for a chat, offer advice on the best restaurants and bars to take in the vibrant and diverse culture that Johor Bahru has to offer.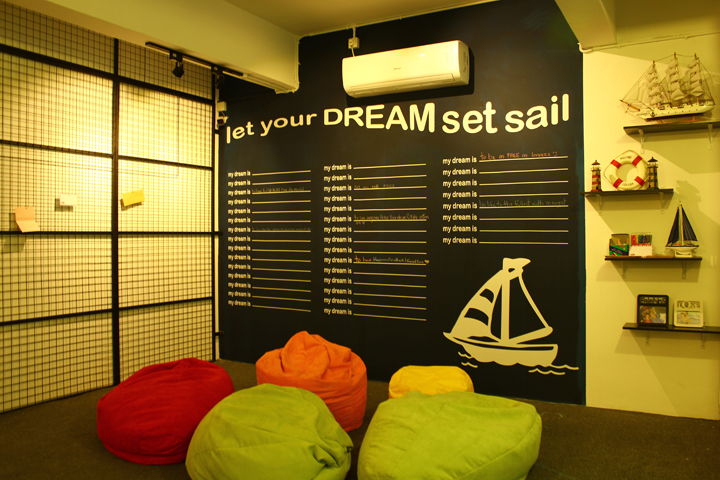 We believe in ''human connection creating warmth'', a cool common area provides opportunity for all our guests to interact with each other. This lounge area is fully equipped with WiFi, TV, beanbag, reading corner for in-house guests only.

There is a "Let your DREAM set sail" wall in the lounge allows guests to write and share thoughts, we hope it serve the purpose of 'ignite the dream with you' spirit.

We have created a Timeless Wall in our common area to offer opportunity for guests to write "a letter to yourself in the future". Guests are invited to write on a paper and then hang it onto the metal framework. Don't worry, it will be safe hang over there until your next visit to the hostel. At the moment you are writing the letter, your consciousness is captured and kept right there in those words. This lets you see in entirety how much things have transformed since then when you open the letter in upcoming -- and this can be a really intriguing experience. It's interesting to just see how much you have grown/transformed since you wrote the letter.